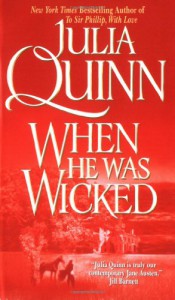 A re-read. This story is one of the most sensual of Quinn's romances. Its hero and heroine deal with a real problem – the problem of their past. In that past, Francesca was married to John. They loved each other. John's cousin Michael loved Francesca too, but he also loved and respected his cousin and he never betrayed his longing for John's wife. He tried, unsuccessfully, to resist his love. His one saving grace was that neither John nor Francesca ever suspected his feelings. They were just good friends, the three of them, and he preferred it this way.
A couple years later, John suddenly dies. At 22, Francesca becomes a widow. She is in deep morning. Michael is grieving too. He inherited all his cousin's land and money, and he feels guilty. When Francesca reaches to him for consolation, he flees to India for 4 years.
That's all backstory. It happens during the first 50 or so pages. Then the real story starts. Michael is finally back from India, and Francesca is at last ready to remarry. Michael also needs to marry; he is an earls and he needs an heir. Neither of them sees the other as a potential candidate.
Michael is still wrecked by guilt over taking everything that belonged to John, while Francesca still regards him as her dear friend, almost a brother, until her feelings towards him change, and she doesn't see a brotherly figure anymore but someone who fires her senses. Then she is twisted with guilt too. She never expected to love again – it would be a betrayal to her beloved John, wouldn't it?
She tells herself that this is wrong, but her body doesn't listen, while Michael wrestles with the demons of his own, all prodded into existence by guilt. Their mutual chase is fascinating, and the tale is alternately charming and heart-breaking, until they both finally succumb in the end.
Very nice.