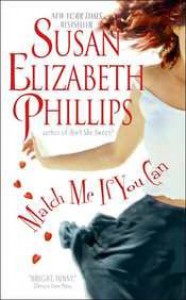 What a wonderful book. I laughed. I almost cried. I enjoyed every minute I spent with my nose in this book and I was sorry when it ended. Like everything this author writes, this novel is a romantic comedy, or rather a love story with a sense of humor.
The protagonists are two vastly different people. Heath is a successful sport agent, rich, ambitious, dedicated to his athlete clients, but emotionally scarred. Annabelle is a matchmaker who wants to find every client of hers the best match. Even if they resist her suggestions. Soft in heart and body and a lot of fun to be around, she makes people happy. When Heath decides to get married, he hires Annabelle to find him a match. Or rather Annabelle tricks him into hiring her.
Afterwards, the fun ride starts, as these two trade mock insults and learn about each other. Annabelle introduced Heath to a slew of gorgeous women, but he doesn't like any of them. He does fall in love with his matchmaker though, even if he doesn't realize it until it is almost too late.
Their banter is hilarious. Their confrontations ignite fireworks. Their emotional upheavals shake their lives and tug at the strings of the reader's heart. Both Annabelle and Heath resist their mutual attraction – they both know that mixing business and pleasure is never wise – but love and wisdom seldom go hand in hand.
I won't go into the details of the plot here but I have to mention one thing that rubbed me the wrong way. When Heath set out to get married, he wanted a wife from the top echelon of society. The most prominent family, the most prestigious university, the top brands clothing, the most polished manners, and of course, the right connections. I read it and I wondered: why? What is so important if a woman wears Prada or not? Knows the right forks for fish or not?
I could never see the importance of such puny details, although some writers emphasize them as if they are the Holy Grail of life. For me, they are just proof of the guy's shallowness. I didn't want to see Heath as shallow – he was a great guy in many respects – but I couldn't shake the feeling that he was not worthy of Annabelle. Not because she had all those family connections growing up and he spent his childhood in a trailer park but because all the trappings of wealth, real or artificial, were so paramount to him that they blinded him to what was really important – kindness, decency, laughter – the qualities that defined Annabelle.
Despite this one flaw, it was an outstanding book.